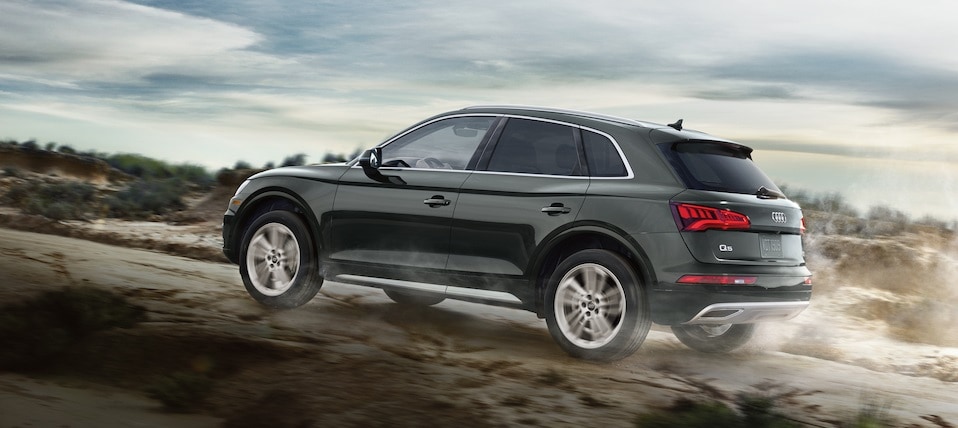 2020 Audi Q5 in Birmingham, MI
Ready for an Upgrade? Then Check Out the New 2020 Audi Q5
If you're ready to bump things up a notch, then why not consider the new 2020 Audi Q5? This could be a real game-changer for you. It offers high performance while maintaining the luxury that it's known for. The 2020 Audi Q5 offers everything you'd expect in an Audi.
What is the New 2020 Audi Q5?
You may be wondering "what exactly is the new 2020 Audi Q5?". Well, it is the latest version of a highly functional sport utility crossover SUV, replete with luxury amenities and characteristic Audi fit and finish.
Features
As the name suggests, the new 2020 Audi Q5 is loaded with a wide variety of luxurious amenities and both standard and optional features. It also has a sleek exterior design as well as exterior features that make any drive worthwhile. Highlights include its outstanding Audi virtual cockpit instrumentation system, fresh wheel designs, and a refined chassis that delivers uncompromisingly smooth ride quality, which will prove especially appealing to those who travel around the greater Detroit area.

Performance
Don't let its great looks fool you either. This crossover SUV not only looks good; it's also plenty powerful to boot. With a standard TFSI® four-cylinder 2.0-liter engine, the new 2020 Audi Q5 is good for up to 248 horsepower and 273 pound-feet of torque.
As you might expect, the new Audi Q5 features available quattro® all-wheel drive, which will prove indispensable during the winter in nearby Southfield and Troy, MI. This unrivaled all-wheel drive system is paired with the kind of technology that significantly enhances efficiency and the overall driving experience. In fact, this vehicle is so well-made, that it has the ability to proactively distribute the power associated with its torque to the areas that need it the most. What does that mean for you? It means that it can provide your vehicle with the enhanced stability and traction that it needs to push through all kinds of weather and road conditions that it may be faced with.
Do you like being in control of how your vehicle responds to the road? Then you'll be happy to know that with the new 2020 Audi Q5, it's even easier to stay in charge with its five driver-selectable modes. These modes allow you to adjust the steering, transmission response and the throttle, which allows you to enjoy a ride quality suited to your mood.

Safety
The 2020 Audi Q5 offers a wide range of safety features for your convenience. They are designed to help you focus on driving and less on distractions. For example, it offers features such as Audi park assist, vehicle exit warning, rear cross-traffic assist, Audi side assist, Audi pre sense® rear, Audi pre sense® city, collision avoidance assist, and more. Each of these safety features was designed to provide safety alerts and triggers and reduce collisions from occurring while you're on the busy roads of Farmington Hills.
The safety features are particularly convenient when taking long drives. The 2020 Audi Q5 also offers driver assistance with braking, as well as adaptive cruise control that helps to maintain a safe speed and distance between other cars. It's great at making sure you and your loved ones get where you need to go safely.

Technology
As with most drivers, it's important to have the latest technology that offers all the conveniences of home or the office. The Audi technology consists of a wide variety of features to keep you connected to those who matter the most while you're on the road. Whether you need to connect to others for business or for personal purposes, you'll have everything you need with the technology that is available in the 2020 Audi Q5. In fact, Audi has thought of everything. They even have the Audi virtual cockpit, which is a 12.3-inch display, a smartphone interface, the Audi Connect MiFi as well as the Bang and Olufsen sound system made with 3-D sound to enhance your driving experience.
Trims
The Audi Q5 is available in three different trims. They include…
Audi Q5 Premium
Audi Q5 Premium Plus
Audi Q5 Prestige
All of which come standard with the 2.0-liter TFSI four-cylinder engine and available quattro® all-wheel-drive with ultra technology® . For even higher performance, the 362-horsepower turbocharged four-cylinder TFSI® engine is also available in each of the trims.
Want to take the new 2020 Audi Q5 for a test drive?
Drop into Audi Birmingham Michigan to do so today!