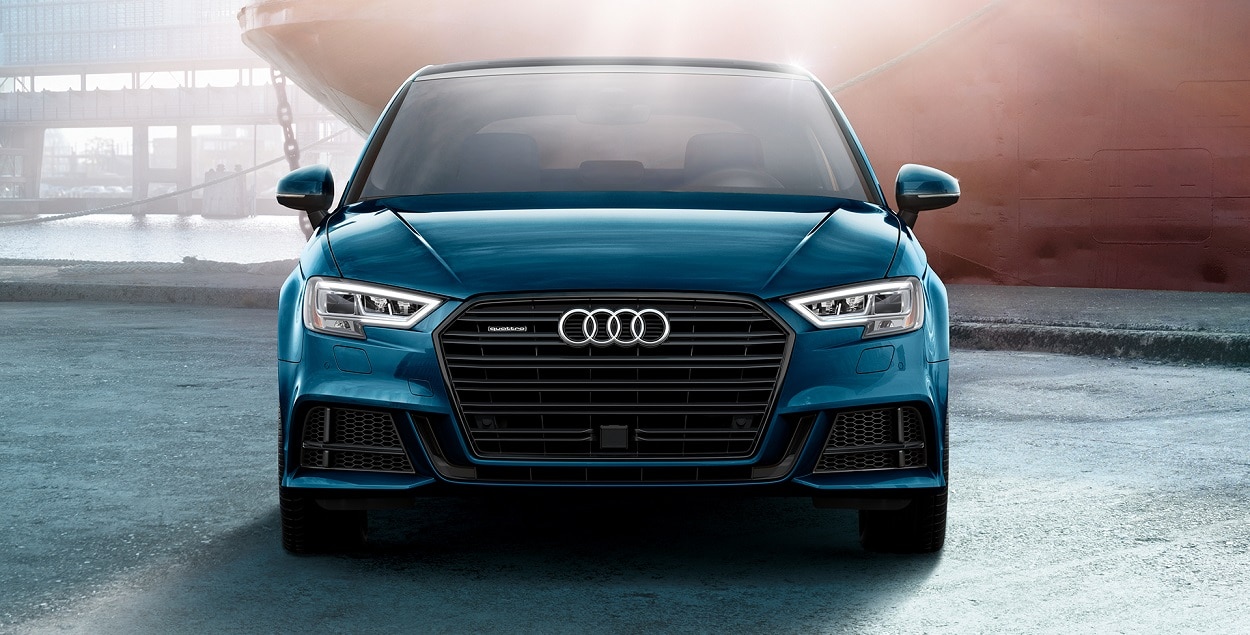 New Audi Sedans in Birmingham, MI
New Audi Sedans in Birmingham, MI
There's no question that our new Audi dealership in Birmingham MI sees a lot of exciting models come through, and we love to see them go home with our customers. When you shop at Audi Birmingham Michigan, you're not just getting a car that can power through the work commute; you're getting a way of life that changes how you look at everything. Once you found a model like the Audi A3, A4, A6, or A8, Southfield becomes full of possibilities.
Finding the right Audi sedan can be a challenge if you aren't sure which to choose, but we're here to help you find the perfect fit for your lifestyle and get you home with the right financing solution. Browsing our inventory will yield exciting results, and you can expect to find these attractive cars on our lot, awaiting a test drive. Whether you're looking for something with a 3.0-liter engine or you're happy simply knowing your Audi model has quattro all-wheel drive, we can make the right match for you.
Audi A3
Fun to drive and exciting to look at, the Audi A3 near Troy MI delivers more than the iconic Audi emblem. The sleek body style of the A3 is a great introduction into the sedan lineup, and it offers an efficient engine, quattro all-wheel drive, and a sophisticated look. Whatever image you want to send out into the world, and for every personality type, the Audi A3 can be the cherry on top. Give yourself a reason to go out for a drive with no destination in mind; bring home an A3.
Audi A4
Possibly one of the best-known Audi models is the A4 near Farmington Hills. It's the car that handles every corner with precision, accelerates with efficiency, and allows you to enjoy practical features with the latest technology. Smartphone integration, high-end seating materials, and quattro all-wheel drive are features you expect in every Audi sedan, and the A4 does not disappoint. Its continued devotion to improving your drive is one reason why you'll love the A4 and everything it stands for.
Audi A6
The style of the Audi A6 is one that cannot be described. There's something ineffable about this car, and drivers near Detroit know the A6 delivers on power and utility. With premium interior features and the latest technology to protect your passengers, the A6 is ready to go the distance for you and be the very best that it can be. With its sporty exterior and powerful engine, the A6 doesn't lack in any area.
Audi A8
There's no question that the Audi A8 comes with many of the features provided by the previous models, but it delivers something extra. The sloped rear, bold fascia, and an engine that impresses with its specs are all reasons to love this Audi sedan. If you've wanted an all-wheel-drive sedan with efficient horsepower and comfortable interior features, this is the model for you. Give yourself something to look forward to on your drive and get behind the wheel of the A8.
Get the Answers You Need from Audi Birmingham Michigan
We at Audi Birmingham Michigan are totally eager to work with the Birmingham, Southfield, and Troy, MI areas to help you get the answers you need to make the right decision. Choosing which vehicle is the perfect fit doesn't have to be hard, and we are here to help. Making your life easier is our main goal, and we are proud to be able to do that for the great residents of Farmington Hills and Detroit. Check out the detailed answers to some of the most frequently asked questions that we get.
What is the smallest Audi Sedan?
The smallest Audi sedan is the Audi A3. This exciting model is the perfect companion for any city driver who wants to experience comfort and style no matter where they go.
What is the largest Audi sedan?
The largest Audi sedan currently on the market is the ever impressive Audi A8. This beauty has plenty of cargo space, as well as innovative technology and endless comfort to make it your go-to option for every drive.
Is Audi A3 a reliable car?
Of Course. Every new vehicle that Audi manufactures is a model that you can trust. These models are backed by a comprehensive vehicle warranty, and built with some of the finest materials on the market.
Which Audi sedan is the least expensive?
The 2020 Audi A3 is the most affordable of the Audi sedans.
Are Audi sedans expensive to maintain?
Audi sedans are about as expensive to maintain as any other Audi model. We do, however, offer frequent specials to help alleviate maintenance costs.
Consider Touring Your Selection from the Audi Sedan Lineup Today!
We encourage you to visit our dealership today to discuss your financing options related to these new Audi models. Whether you opt to bring home a new Audi A3, A4, A6, or A8, let us help you find the financing solution to meet your needs. A new Audi lease or loan option is out there with the terms that make the most sense for you, so don't hesitate to contact our team today to learn about how we can make your dream of driving one of these models a reality.
Make an Inquiry