Streamline Your Audi Lease or Purchase
Digital retailing is a fancy way of saying that you shopped online. Many dealerships use digital retailing as a means for simplifying the car-buying process. Instead of making countless trips to the dealer's showroom, you can stay home and scroll vehicle listings at your leisure. Since you already buy groceries and clothes online, why not add this level of convenience to financing a new or used car? At Audi Birmingham Michigan, serving Farmington Hills, you'll have the right tools to shop and finance your Audi online.
If you haven't bought a car online before, don't worry. It's a simple, step-by-step process that will put you in the driver's seat of designing a custom lease or loan for your Audi Q5. To show you how seamless it is to buy a car online at Audi Birmingham Michigan, we'll highlight the steps that you'll take without coming to our Birmingham dealership.
1. Choose to Finance or Lease
Have you decided on leasing or financing? Did you choose between a new or used Audi Q3? After you've made those initial choices, it'll be time to customize your monthly payment. You can do this by inputting your down payment, credit score range, term length, and interest rate. All these financial details will present you with a realistic amount that you'll pay each month when you lease or finance the Audi A6 near Troy, MI.

2. Browse Available Incentives
We strive to provide a full array of financing and leasing opportunities for our faithful customers. What's more, is you can save additionally through competitive discounts and incentives. Whether you're a returning Audi shopper or you're a first-time buyer, there's something for everyone.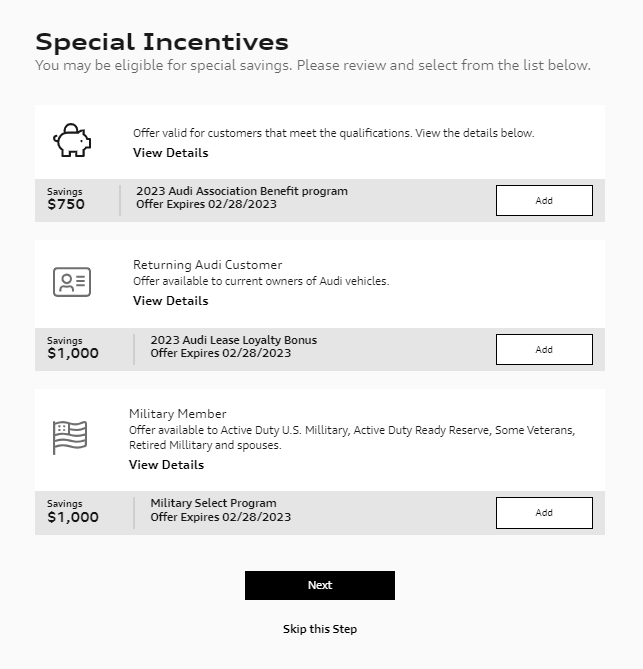 3. Appraise Your Trade-In
Will you trade in your old car or SUV to Audi Birmingham Michigan near Detroit? Do you want to know how much your used vehicle is worth? You can appraise your trade-in online and factor in its value to your next purchase. All you need to do is supply accurate information about your trade-in, such as its mileage, make and model, trim level, color, VIN, manufactured year, options, and service history.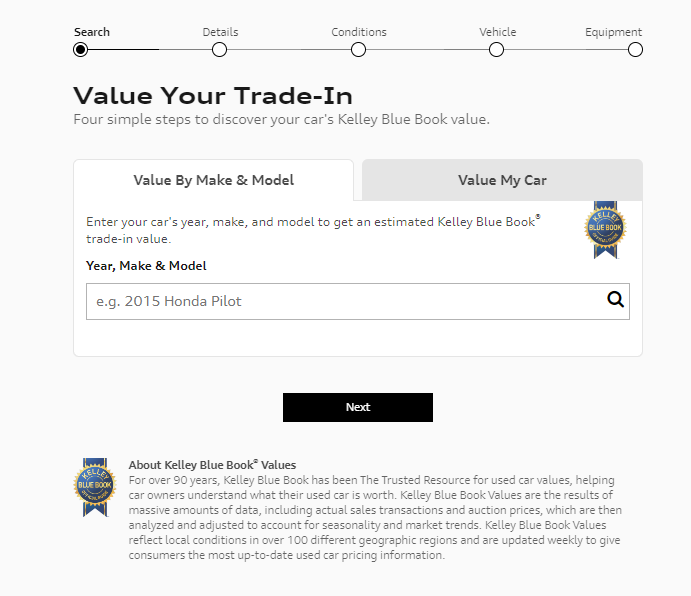 4. Add Additional Protection
Looking for additional peace of mind with your Audi purchase or lease? We proudly provide a full variety of protective programs and extras to keep your Audi in like-new condition.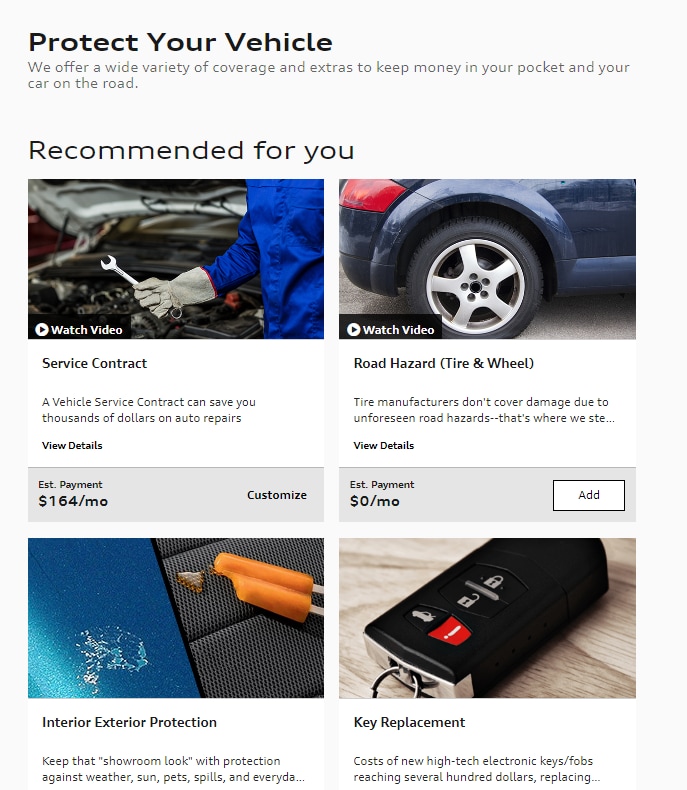 5. Submit Your Credit Application
The most important part of the car-buying process is requesting credit approval. This stage typically involves a lengthy finance application that you'd complete at the dealership's finance center. Not anymore. With digital retailing at Audi Birmingham Michigan, you can apply for financing at home, and it only takes a few minutes. Once you submit your application, you'll get to see your financing options for the Audi SQ5.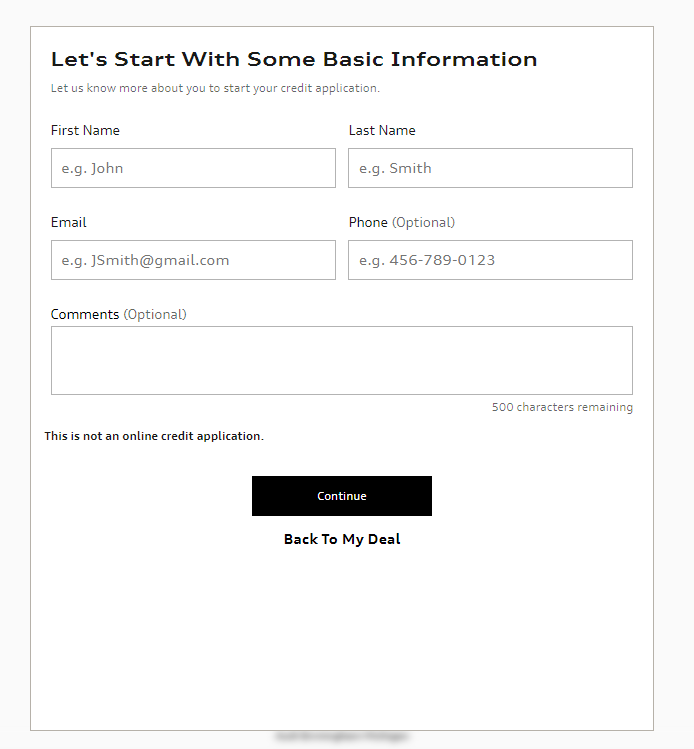 6. Schedule a Test Drive
Once you're ready to get behind the wheel of your new Audi Q5 or electric Audi SUV, choose a time that works for you to take a test drive.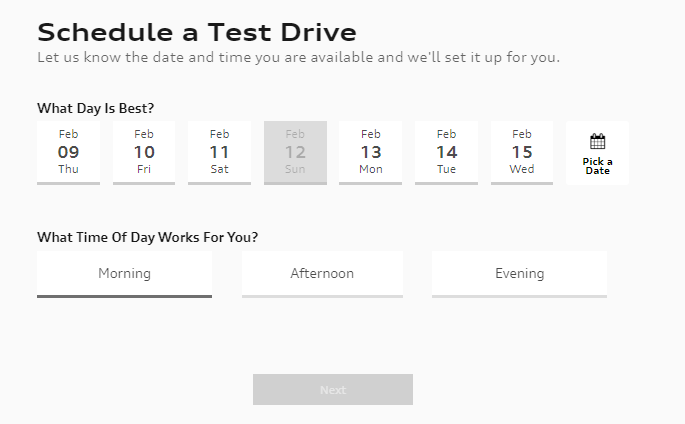 7. Finalize Your Deal
Researched and test drove the Audi of your dreams? Check. Personalized your monthly payment? Check. Valued your trade-in? Check. Applied for financing? Check. After completing all these steps, you'll submit your offer to Audi Birmingham Michigan, serving Southfield. One of our Audi specialists will contact you to take care of the final paperwork and get you to the keys. There's even at-home vehicle delivery. Do you want to buy a used car online? How about a brand-new Audi? Thanks to digital retailing, you can start online and get the keys to your next vehicle without stepping foot at Audi Birmingham Michigan.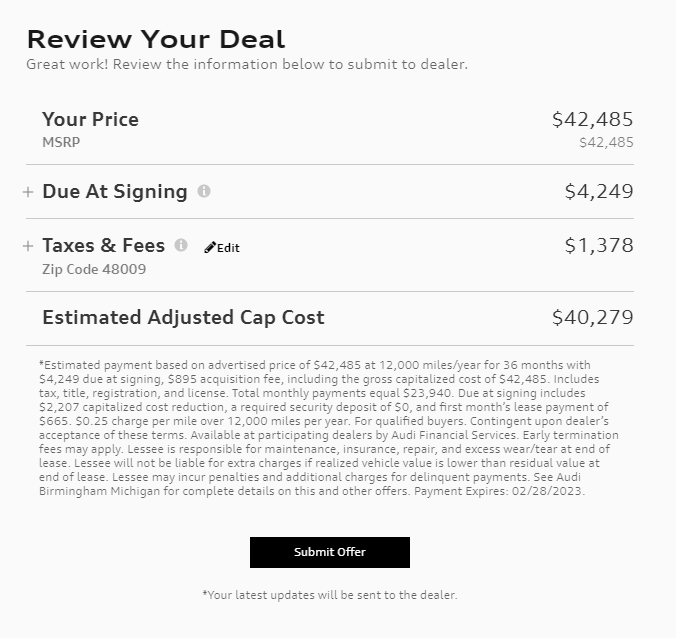 How can we help?
* Indicates a required field